An Affordable Housing Community Solutions Podcast
Hosted by Quadel President Katie Goar in Partnership with ForbesBooks Radio
Every Tuesday, 2pm EST
We need more affordable housing in the U.S.—that much we can agree on. But, how do we get there?
Join Quadel President Katie Goar each week as she talks with finance experts, policy makers, thought leaders, and community organizers to discuss how to create more affordable housing—and more opportunity—for people across the country.
Interested in economic development? Government funding? Why affordable housing makes good economic policy or how it benefits communities? Subscribe and listen each Tuesday on ForbesBooks Radio or wherever you get your podcasts.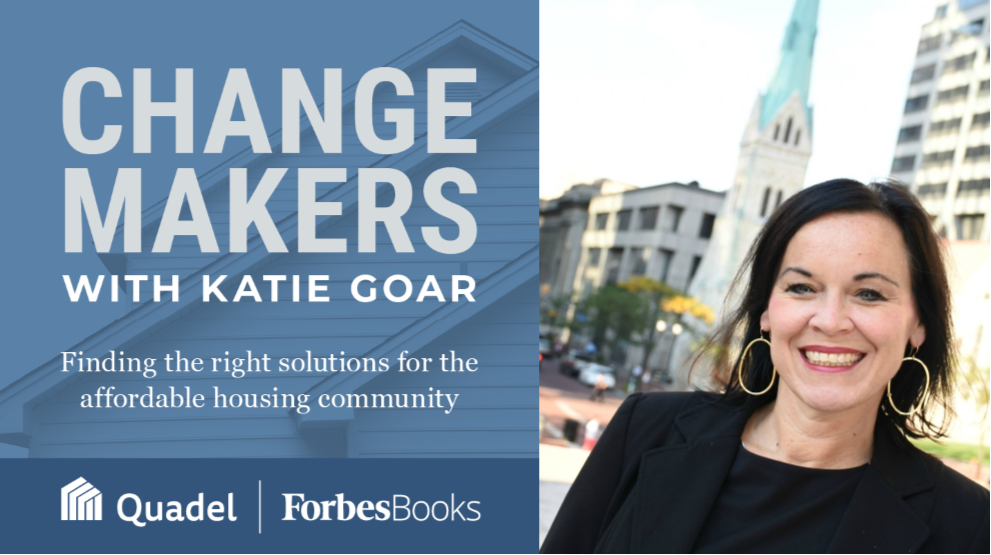 About Katie Goar
, QUadel President
Katie Goar has worked at Quadel since 2007 and has spent the last five years as its president bringing a special focus to customer service.
She holds more than 24 years of affordable housing experience, having held a mayor-appointed position in city government, a top-level management role within a public housing authority and provided portfolio oversight for 60,000 multifamily units before leading Quadel, a nationwide consulting and training organization based in Washington D.C. As president, she oversees company performance, project management and client relations of Quadel's subsidiary offices in Phoenix, Memphis, Raleigh, Indianapolis, and Baltimore.
For more than eight years, Katie also taught classes in public management, public organization and public policy at Indiana University-Purdue University. She holds a B.A. in Political Science/Spanish from Anderson University and an M.P.A in public administration and policy analysis from Indiana University.
EPISODE 08 | PART TWO: JASON GENO
Katie concludes her conversation with ChangeMaker, Jason Geno. Jason is the President of Human Capital Initiatives and works with the country's leading housing authorities and nonprofits to improve operational efficiencies and implement cost-saving procedures.
Jason Geno
President of Human Capital Initiatives 
Cindy Stotler & Sheree Bouchee
Director of City of Phoenix Housing Department & Affordable Housing Advocate
Preston Prince
Executive Director and Chief Executive Officer of the Fresno Housing Authority
Eugene Jones
Chief Executive Officer of the Atlanta Housing Authority
Gregory Russ
Chair and Chief Executive Officer of the New York City Housing Authority
Adrianne Todman
CEO of the National Association of Housing and Redevelopment
Demetria Simpson
Vice President of Development at BGC Advantage
Robert Pinnegar
President & CEO of the National Apartment Association
Making the Change Blog Coming Soon
Quadel and its employees work hard to be ChangeMakers in the affordable housing industry and in the communities in which we serve and reside. Read how Quadelians are making a difference in our monthly blog, Making the Change.