An Affordable Housing Community Solutions Podcast
Hosted by Quadel President Katie Goar in Partnership with ForbesBooks Radio
Every Tuesday, 2pm EST
We need more affordable housing in the U.S.—that much we can agree on. But, how do we get there?
Join Quadel President Katie Goar each week as she talks with finance experts, policy makers, thought leaders, and community organizers to discuss how to create more affordable housing—and more opportunity—for people across the country.
Interested in economic development? Government funding? Why affordable housing makes good economic policy or how it benefits communities? Subscribe and listen each Tuesday on ForbesBooks Radio or wherever you get your podcasts.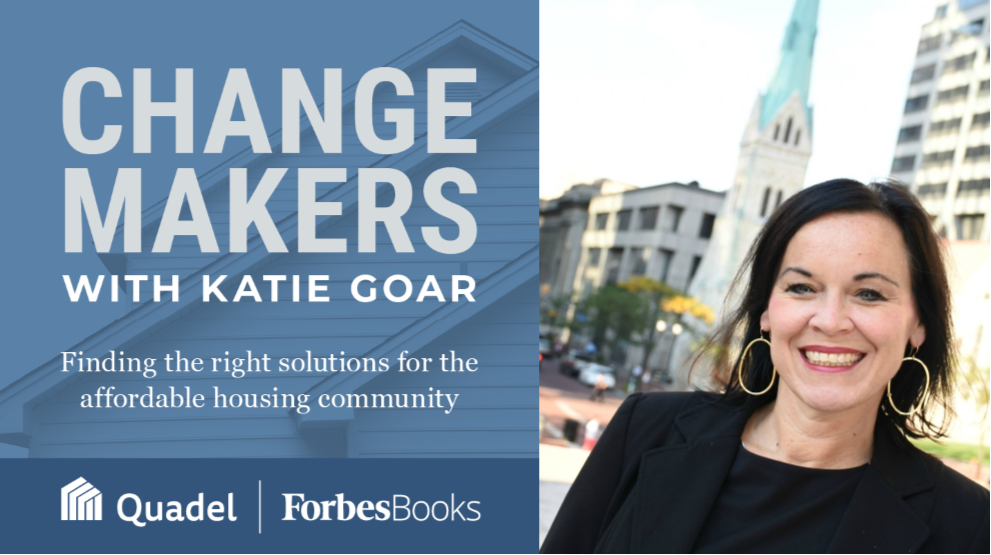 About Katie Goar
, QUadel President
Katie Goar has worked at Quadel since 2007 and has spent the last five years as its president bringing a special focus to customer service.
She holds more than 24 years of affordable housing experience, having held a mayor-appointed position in city government, a top-level management role within a public housing authority and provided portfolio oversight for 60,000 multifamily units before leading Quadel, a nationwide consulting and training organization based in Washington D.C. As president, she oversees company performance, project management and client relations of Quadel's subsidiary offices in Phoenix, Memphis, Raleigh, Indianapolis, and Baltimore.
For more than eight years, Katie also taught classes in public management, public organization and public policy at Indiana University-Purdue University. She holds a B.A. in Political Science/Spanish from Anderson University and an M.P.A in public administration and policy analysis from Indiana University.
EPISODE 30 | PART TWO: BRAD HARGREAVES
Katie wraps up her chat with ChangeMaker Brad Hargreaves, the founder and CEO of Common. Brad and his team design and manage multifamily apartments with more than 5,000 residents in over 10 markets across the country.  Common designs, leases, and manages multifamily properties that appeal to today's renters living in coliving, microunit, and traditional apartments.
Brad Hargreaves
Founder and CEO of Common
Deborah De Santis
President and Chief Executive Officer of the Corporation for Supportive Housing
Zach Giffin
Host of Tiny House Nation, the Vice President of The Tiny Home Industry Association, and Board Member and National Spokesperson of Operation Tiny Home
Stephen Norman
Executive Director of the King County Housing Authority
Michelle Norris
Executive Vice President of External Affairs and Strategic Partnerships at National Church Residences
Evette Hester
Executive Director and CEO, Housing Authority of New Orleans
Kate Bennett
 Administrator of the Boston Housing Authority
David Kirk
Professor of Sociology and Professorial Fellow of Nuffield College at the University of Oxford
Jacqueline Waggoner
President of Solutions at Enterprise Community Partners
David A. Northern
President and CEO at the Housing Authority of the Birmingham
Karen DuBois-Walton
President of Elm City Communities and Housing Authority of the City of New Haven
Sandra Henriquez
Chief Executive Officer, Detroit Housing Commission
Tim Shriver
Chairman, Special Olympics
Alexandra Jackiw
Chief Operating Officer at Hayes Gibson Property Services
Kelvin Jeremiah
President & CEO of the Philadelphia Housing Authority
Maurice Jones
CEO and President of the Local Initiatives Support Corporation
Marcia Lewis
Chief Executive Officer of the Memphis Housing Authority
Roberta Graham
Vice President, Quadel
Jillian Copeland
Founder of Main Street Connect
Stacy Spann
Executive Director of the Housing Opportunities Commission of Montgomery County
Ismael Guerrero
President and CEO of Mercy Housing
Jeffery Patterson
CEO of the Cuyahoga Metropolitan Housing Authority
Jason Geno
President of Human Capital Initiatives 
Cindy Stotler & Sheree Bouchee
Director of City of Phoenix Housing Department & Affordable Housing Advocate
Preston Prince
Executive Director and Chief Executive Officer of the Fresno Housing Authority
Eugene Jones
Chief Executive Officer of the Atlanta Housing Authority
Gregory Russ
Chair and Chief Executive Officer of the New York City Housing Authority
Adrianne Todman
CEO of the National Association of Housing and Redevelopment
Demetria Simpson
Vice President of Development at BGC Advantage
Robert Pinnegar
President & CEO of the National Apartment Association
Making the Change Blog
Quadel and its employees work hard to be ChangeMakers in the affordable housing industry and in the communities in which we serve and reside. Read how Quadelians are making a difference in our monthly blog, Making the Change.